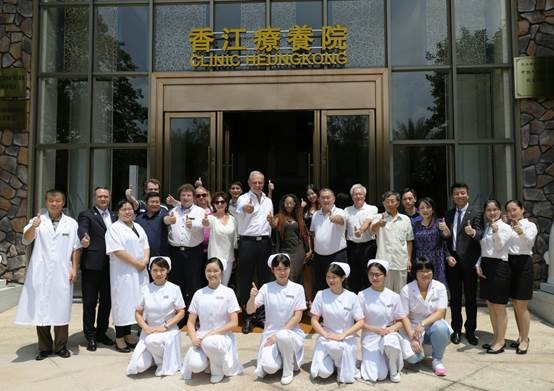 On September 6, a team of German experts representing the forefront of global anti-aging visited the Heungkong Wellness Valley located in Zengcheng, Guangzhou. They explored the development of Heung Kong's health industry, and signed a cooperation memorandum in relation to jointly establishing a national anti-aging research and clinical application base and introducing latest anti-aging achievements.
Visiting guests include three joint chairman of Die Gesellschaft für Anti-Aging und Bio-Medizin International, Prof. Dr. Bernd Kleine-Gunk, chairman of German anti-aging association, Prof. Dr. Jürgen Karl-Josef Hescheler, stem cell researcher and dean of cell physiology at Universität zu Köln and Prof. Dr. Karl-Dieter Grüske, former president of Universität Erlangen-Nürnberg, and Dai Jiqiang, secretary-general of the board of directors of Die Gesellschaft für Anti-Aging und Bio-Medizin International. Accompanied by chairman of the board of Heung Kong Group Chi Keung Lau, experts learned about the development of Heung Kong's health industry and the operating mode of the Wellness Valley, and they were impressed by the exceptional geographical environment of the Wellness Valley as they think it's an ideal place for anti-aging and keeping healthy. Meanwhile, they also highly recognize the comprehensive facilities and the valley's capability of integrating health care resources. Dr. Bernd Kleine-Gunk said the valley has excellent supporting resources and a sound preventive treatment system, and through further cooperation with the society in the future and combining anti-aging research achievements from around the world, it is set to become a world leading anti-aging base.
Then, the two sides had in-depth discussions in relation to their cooperation in China, launch and promotion of anti-aging projects, expert exchanges, biomedical technology supports and studies, and setup, operation and management of medical anti-aging organizations, and a cooperation memorandum was signed. At the signing ceremony, Chairman Chi Keung Lau summarized the corporate responsibilities and development ideas of Heung Kong Group under the social mission of "Healthy China in New Times", saying that the group will enhance international cooperation in medical technology resources and anti-aging and accelerate the construction of a health industry platform by bringing in advanced technologies and exploring the international market.